We're constantly updating our mobile services to make them more responsive to members' needs, and hope you like what you see.
Recent upgrades include a tablet app that mirrors the mobile app's user experience for better functionality. View your account history and loan balances, plus a host of other, convenient features including:
Monitor your credit score in real time
Deposit checks with your phone— no need to visit ATM or Branch
Bill Pay—one time or recurring
Transfer Funds between accounts or to someone else (domestic only)
Pay loans and Credit Card balances
Send and receive money using Zelle®
Locate a nearby branch/ATM by texting zip to 91989
Use Apple Touch ID

[2]

and Android Fingerprint

[3]

to login to the app
Want to check out everything you can do in our mobile banking app? Click here [4].
"It's AWESOME to have this app because there are times that you can just view or do it yourself without having to wait on hold! I love the convenience of having the app, especially when I need to get something done on the weekends."
Send Money With Zelle®
We partnered with Zelle so you can easily send money to friends, family and others you trust.1 Send money using only an email address or U.S. mobile phone number.2 Send and receive money typically in minutes!3 Log in to Mobile Banking to get started.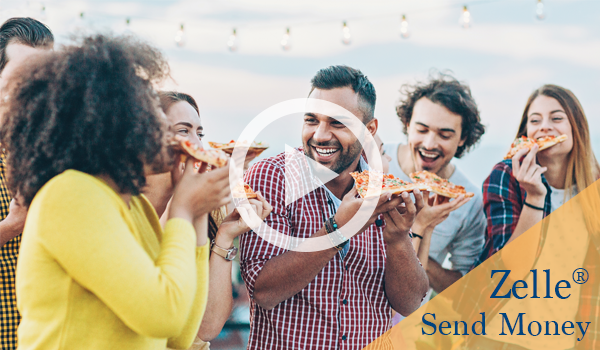 [5]
Download the app today!
(Remember—you'll need an Online Banking account before you can use Mobile Banking.)
Set up Online Banking

Read the access agreement.
Enter ID information and click "Continue."
Create Sign-On ID/Password; enter phone number/email address; click "Continue."
Check boxes for extra services if desired, and hit "Continue." You'll see a confirmation page, and you're done!

Set Up Mobile Banking

Log in to your new Online Banking account for the first time— from a desktop/laptop
Download the "Farmers FCU" app on your mobile device.
Sign into Mobile Banking with the same user ID and password you set up for Online Banking. You're done!
Zelle and the Zelle related marks are wholly owned by Early Warning Services, LLC and are used herein under license.
1 Transactions typically occur in minutes when the recipient's email address or U.S. mobile number is already enrolled with Zelle.
2 Must have a bank account in the U.S. to use Zelle.
3 In order to send payment requests or split payment requests to a U.S. mobile number, the mobile number must already enrolled with Zelle.
---
Links
[1] https://figfcu.org/mobile-banking
[2] https://figfcu.org/sites/default/files/1523627998_1.pdf
[3] https://figfcu.org/sites/default/files/1523627998_2.pdf
[4] https://figfcu.org/javascript%3Avoid%280%29%3B
[5] http://cdn.oectours.com/media/cds/banks/3841/custom/108750/4040.mp4
[6] https://itunes.apple.com/us/app/farmers-fcu/id1078370428?mt=8
[7] https://play.google.com/store/apps/details?id=com.farmersinsurancegroup.mobile